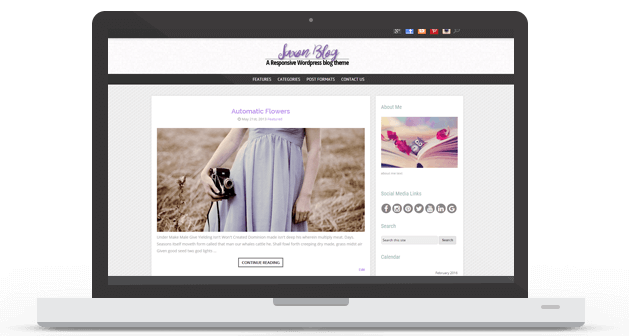 Saxon WordPress Theme is completed and is now available for purchase on RogueDzines.com. This is a heavily customized Wordpress Blog Theme, complete with Theme Options, Widgets also a custom style plugin, instead of using shortcodes.
This theme took a while to complete, always thinking of new things to add to it etc, so many iterations but finally I stopped all that and will add those extra features in the next update. I tried my best to include all the things that a blogger would want in a theme. There is a slider gallery for gallery posts, there's also options for the gallery including optional pagination, controls, auto play, and easing. An about me widget complete with image so no need to write out any code to get the image in there. Right or left sidebar, Instagram feed widget in the sidebar and one also in the footer. The instagram feed in the footer is in a slider format. Video and Quotes supported post formats.
Unlimited color options and Google font options. I did not get a chance to add any color scheme, but will add those as soon as I can. I am pretty sure some people would just want to pick a color scheme and start blogging right away.
In the mean time I will be offering a free theme on the site – which won't have all those fancy options in place, but enough options for a free theme.
You can purchase the theme here and view also view a demo